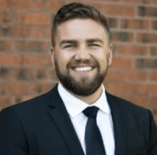 Meet Zach Wendt, Experimentation and Optimization Product Manager at Nimble Gravity.
Zach's background is in mechanical engineering, architecture, and business. Zach found his career in the digital space with a stint in technical content marketing and an inherent thirst for data and fixing things. Like most engineers, optimization and improvement is in the fiber of Zach's being. "The mechanics of mechanical engineering and product management are the same – you are able to create something from nothing, it takes discipline and intelligence, and at the end of the day you're making the world a better place. I simply traded one science for another."
One of Zach's core beliefs is that you are a product of your surroundings. "I know that if I surround myself with smart people and have the opportunity to work on hard-to-solve problems that I will be able to help make the world a better place." For Zach, working at Nimble Gravity is a great opportunity to learn something new and challenging every day.
If you also want to join us, please check out our careers page on open roles!
Using Machine Learning and Data Science to improve the semiconductor industry supply chain.
The semiconductor industry, worth $555.9 billion last year, is in crisis.
Semiconductors are a vital component of electronic devices used in computing, communications, healthcare, transportation, and clean energy; among others we need in our daily life. The crisis is based on a shortage of semiconductors that started in early 2020 when the effects of the COVID-19 pandemic in Asia caused disruptions in supply chains and logistics.
Over the last 2 years, this disruption has affected the industry which has a uniquely interconnected infrastructure that has touchpoints across more than 169 industries.
Zach Wendt, Experimentation and Optimization Product Manager at Nimble Gravity, recently explained in an interview with the EEtimes.com
"The absence of one part can have ripple effects through not just one vertical or market, but across many, for example, a MOSFET manufacturer that has a materials shortage can impact the auto industry, the solar industry, the computer industry. Maybe your town is building a new concert venue and suddenly they can't get the sound system to complete the project. And we're talking about delays that are not measured in days or weeks, but possibly months and even years."
What can organizations like Nimble Gravity do to help semiconductor companies manage the supply chain using Machine Learning and Data Science?
Savvy companies are exploring how to make use of new technologies to create more resilient and competitive cost-efficient end-to-end supply chains. These techniques are applicable to industries other than semiconductors.
Among other industries' supply chains were affected during the last 2 years are:
Supply chains were designed to operate in a steady environment with high reliability and at the lowest possible cost. Unfortunately, due to the current world's circumstances supply chains have lately been expensive and unreliable.
Current geopolitical tensions and the Covid-19 pandemic have led to calls for companies to reduce vulnerability by radically restructuring their supply chains.
By analyzing the colossal amounts of data being generated by the company's supply chain thanks to the new technologies we can automate processes creating software to anticipate problems through ML (Machine Learning)
"The good/bad news is that there have been enough shortages to build predictive models. Even in companies with relatively simple data collection and analytics capabilities."

Tony Aug Co-founder at Nimble Gravity and head of the Supply Chain practice added.
We can help the industry to predict events such as transportation bottlenecks, weather, and supply demand. It can also be used to reduce work using data for procurement, using AI to discover new consumer habits and forecast seasonal demand, smarter planning, efficient warehouse management, monitoring internal legal compliance, use real-time data to select suppliers and increase the effectiveness of supplier relationship management.
If you're ready to harness the power of Data Science and Machine Learning to improve the supply chain of your company, reach out and let's talk: sales@nimblegravity.com.